Globalization of the food supply chain industry has significantly emerged today. Farm-to-fork food safety and quality certification have become very crucial. Increasing threats to food security and contamination have led to an enormous need for a robust traceability system, an essential mechanism for quality control that ensures sufficient food supply chain product safety.
The global organic food market is valued at $124billion and is projected to grow at a Compound Annual Growth Rate (CAGR) of +16% between 2017 and 2022 to reach $262 billion. Organic produce sales saw a growth of over 20%  in the first quarter of 2020. Other organic food items such as organic milk, organic eggs, packaged and frozen organic food saw a conservative rise before the outbreak, later witnessing a major boost in sales throughout 2020. 
When considering health as a motivation for purchasing organic food, it appears that consumers link it with the value of security, authenticity,  and most importantly, trust. Another main consumer concern is food safety, which leads to knowing more about what food they consume, where and under what conditions they were harvested. Transparency in the supply chain along with traceability of food origins of organic products can instill deep consumer trust in their chosen organic food brands. 
Food Supply Chain tracking is critical to explore the food's source. It ensures that the supplied eatables are safe to eat. But when it comes to how the food supply chain is managed currently, it becomes challenging for the food producers and retailers to confirm its origin. 
Challenges: Traditional Food Supply Chain
Food Fraud
Due to the complicated global food supply chain system, tampering, misrepresentation or deliberate substitution has grown significantly. As per the report submitted by NSF, Food fraud costs the food industry $49 billion globally, each year. The most affected food categories include dairy products, tea and coffee, fruit juices, olive oil, maple syrup, seafood, honey, and various other food items. 
Foodborne Illnesses 
Out of 600 million people, 1 in 10 falls sick after consuming contaminated or adulterated food. According to the World Health Organization, 420,000 deaths are recorded every year, leading to a loss of 33 million healthy life years. Foodborne diseases hinder socio-economic development by burdening the healthcare system, affecting trade and national economies.
Recalls
Food suppliers issue a recall when government agencies like the FDA or USDA recognize or are informed about the presence of possible contaminants in the food items. In most cases, pinpointing the exact source of contamination is time-consuming. This leads to huge financial losses for the food suppliers since there are costs involved in the retrieval and disposal of all recovered products. 
Inadequate Communication 
Lack of communication can have a major impact on the food supply chain. This is because there are various parties involved in the chain which have little to no knowledge of one another's actions. Poor communication causes inefficiency, waste, and can lead to mistrust among suppliers and their customers. This problem gets much worse when a company is operating globally. 
Lack of Traceability & Transparency
Lack of traceability and transparency can create blind spots in the supply chain and expose a label to unnecessary risks. It can weaken consumers' trust in the brand, which can translate into lower sales and profits. It can also give rise to certain legal issues that can stall new product launches. The lack of traceability in the food supply chain is typically caused by companies using outdated systems or traditional paper tracking and manual inspections. These introduce errors and delays in sharing information. 
Features: How blockchain is different from traditional databases?
Decentralized – Creating trust amongst participants: Traditional databases are not designed to be decentralized. 
Distributed – More resilient to failure: Databases have proved their strength here too but there is a good amount of engineering effort needed to accomplish resilience.
Immutable – No data tampering: In traditional databases, you can alter data easily.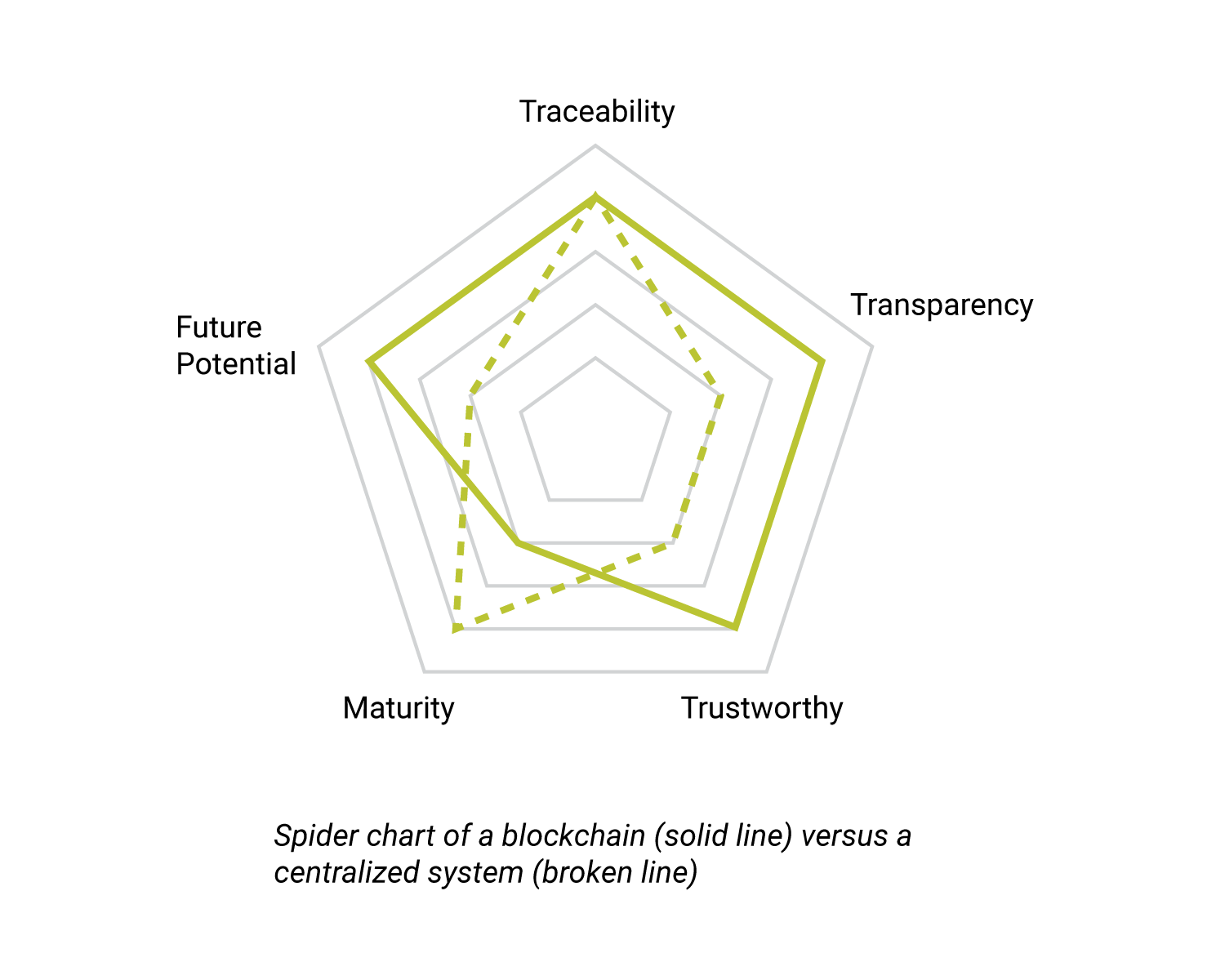 Use Cases: How Can Blockchain Help? 
Transparency: Food Safety & Consumer Awareness
Within the food supply chain, there are different participants involved in each step, from farmers to processors, manufacturers, certifying agencies, government agencies, logistics, distributors, retailers and so on. Blockchain increases transparency in a supply chain coercing all participants to ensure they are following the right safety and quality practices. 
Blockchain provides a secure environment where every participant in the blockchain network has access to data and these data, once entered and verified, cannot be modified. This property of blockchain promotes responsibility across all participants and aids in building trust among them. Through real-time monitoring of food from farm-to-fork, blockchain will have a considerable impact on reducing food fraud and false labelling. 
Faster Recalls in the Supply Chain 
Food Recalls in the supply chain result in economic loss and affects brand value. In traditional traceability systems, isolating the exact source of contamination takes a long period ranging from weeks to even months. Blockchain provides the ability to find the source of the issue almost immediately. It can save more than just time and money in the supply chain process; it could even save lives.  
Proof of Authenticity of Label is a Good Source of Truth 
It is difficult for the end consumer to identify the difference between organic and conventional food products. This gap leads to participants within the organic supply chain to replace original organic food items with conventional food products. Players in the supply chain also tend to mix organic food items with some quantity of conventional food items. 
Blockchain being decentralized ensures no central authority can make changes in the supply chain without consensus. This means that no major player can carry out fraudulent activities without being noticed by other stakeholders involved in the food supply chain. 
Conclusion
Blockchain technology creates transparency for all participants. In fact, by irreversibly storing data, it creates a unique level of credibility that contributes to a more sustainable industry. Information on a blockchain allows companies to strengthen their relationships with current customers and to attract new ones. 
Food traceability is not a new concept and has existed for a long time, however, traditional methods have shortcomings. Blockchain technology promotes data-driven practices with one set of truth spread across all participants in the supply chain. 
Download our free comprehensive and shareable pdf on blockchain for supply chain here. 

Feel free to reach out to us at hello@byteally.com if you have any questions regarding the blockchain technology.
Related Reads:
White paper : Blockchain for Seafood Traceability
Guide : Integrating with IBM Food Trust Blockchain